Hi Everybody!
I would like to let you know how strongly my heart beats for cats.
I have, as one would say, a «PASSION» for cats. This LOVE for cats in fact extends to all animals, whether they are pets or wild.
I would like to share my thanks to my furballs with you. With them, it is a time of sharing, (especially as they love to invade one's space), and tenderness.
It is necessary for us to accept their moments of intimacy with us and respect them when they want to be alone. Then you will receive happiness without limits.
After the Travellers of the Road and the Persians,
the sacred birmans came into my life.
For a long time I had Persians, as well as what I call with affection the «Big Travellers», those that you collect from SPCA, find in a gutter or who appear by magic in your garden.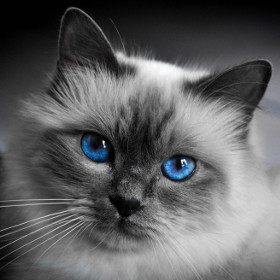 So I then continued my feline adventures with the Sacred Birmans, so mysterious, so charming !
And every cat has its own special qualities, whether it is a breeding cat or not !
I would sincerely like to thank all my cats' friends who have helped me by sharing their knowledge without reserve and who also entrusted me with their precious, lovable kitties.
They all know who they are !
When you have cats, it is best to be aware of and respect what they want without giving them anything in excess and letting them have their own way all the time.
Having this respect brings a beautiful harmony and true happiness.
MiaouwouxxX…..
Katou      =^..^*=
Birmania & Co member